A REAL-LIFE STORY ON THE ART OF VISUAL STORYTELLING VIA THE MEDIUM OF PHOTOGRAPHY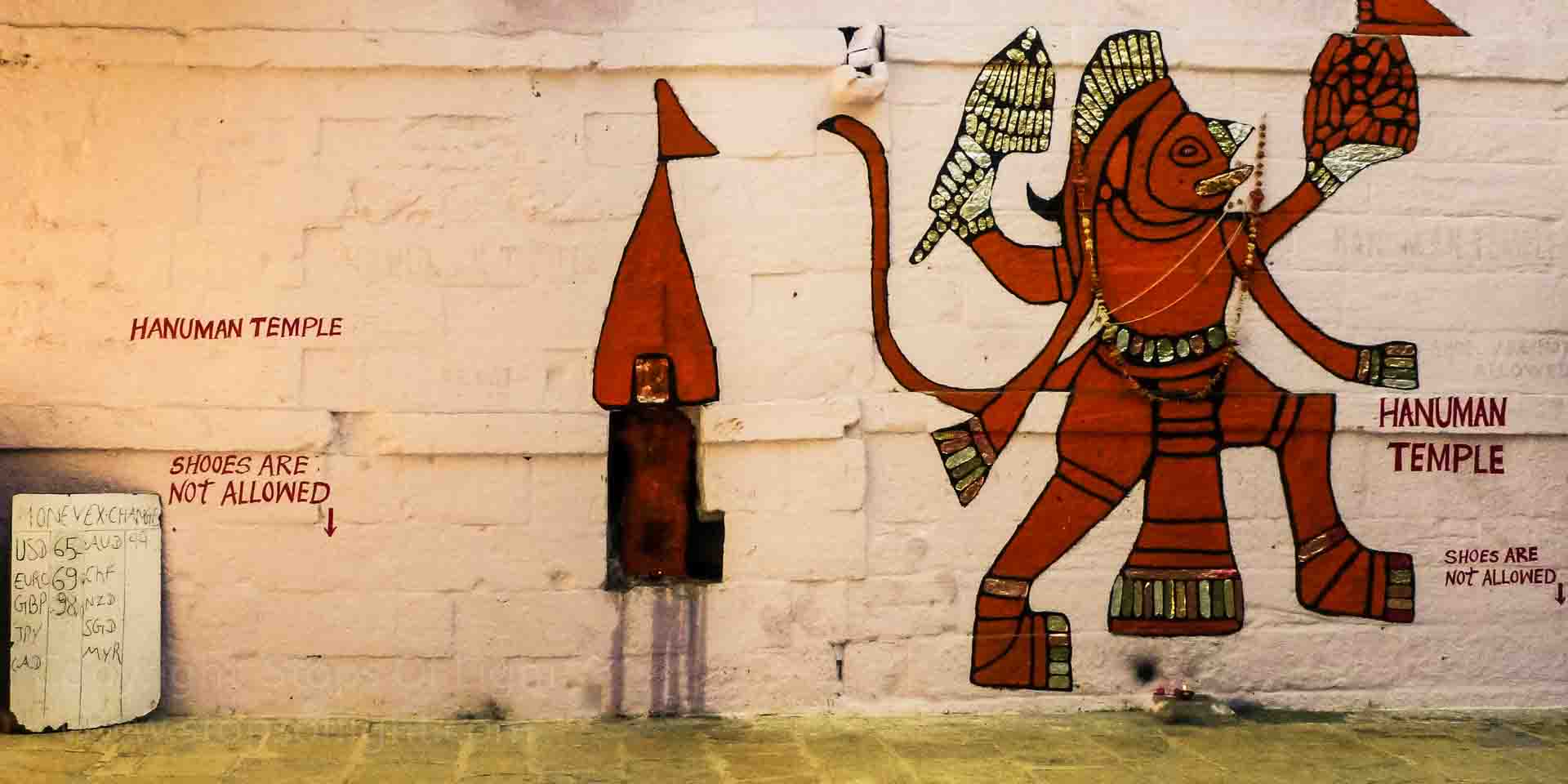 I
could tell that she was perturbed by the inclusion of the stone tablet in the photograph. Complete with the day's currency exchange rates, placed against as it was against the side of the wall of a temple dedicated to the God Hanuman, it screamed incongruity from the rooftops. Or at the least from the wall of the temple!
She sighed. "How could I have missed it? How come I didn't see it? Wait, don't tell me — it's straight out of your Art of Seeing Photography Workshop! It's one of those many super-duper tips on how to go beyond seeing the obvious and making compelling photographs. It's so, so potent,but I forget it in the enthusiasm of taking a shot at times. Damn!"
"Does it work, according to you? And if so, in what ways and why?" I asked, loosening my seatbelt now that the air pocket we'd hit was behind us. I adjusted the laptop so she could have a better look at my images.
She thought for a moment before replying. "Because of the incongruity. The sheer contrast of one element against the others in the frame as you teach in your workshop. Contrast – of any type – makes us sit up and take notice, makes us wonder and question. Contrast is an eye-magnet if ever there was one. And it works here because of the way you composed the image, the way you brought all the disparate parts together into a meaningful whole."
"Contrast – of any type – makes us sit up and take notice, makes us wonder and question. Contrast is an eye-magnet if ever there was one"
"Yes," she nodded. "Devoid as the photo is of hustle-and-bustle, devoid as it is of a person in the frame, I'm left wondering how it fits into the 'Living, Breathing Fort' category that you were talking about. I'm wondering why you chose to make this image as you did of the fort in Jaisalmer…"
I, laughed.
"What's so funny?" she asked, her face flushing a tad bit.
"Define the 'living, breathing fort' bit, will ya?" I said. "Actually, you might as well go the whole hog and put it in the context of what we've been doing since the last ten days. Trust me, it's all related."
F
ifteen minutes. It took her fifteen minutes to summarize how her ten-day private, mentored photography tour to the state of Rajasthan with me saw us visiting the towns of Jodhpur, Jaisalmer, and Kumbhalgarh, making photographs of the forts there. Of visiting and making images of the Jain temples at Ranakpur. Of the motivations that led her to do so – her desire to put what she'd learned to the test, and to try and tell a story through her pictures.
"The 'Living, Breathing Fort' bit. Tell me more about it!" I urged. "How can a fort 'live'? How on earth can it possibly 'breathe'?"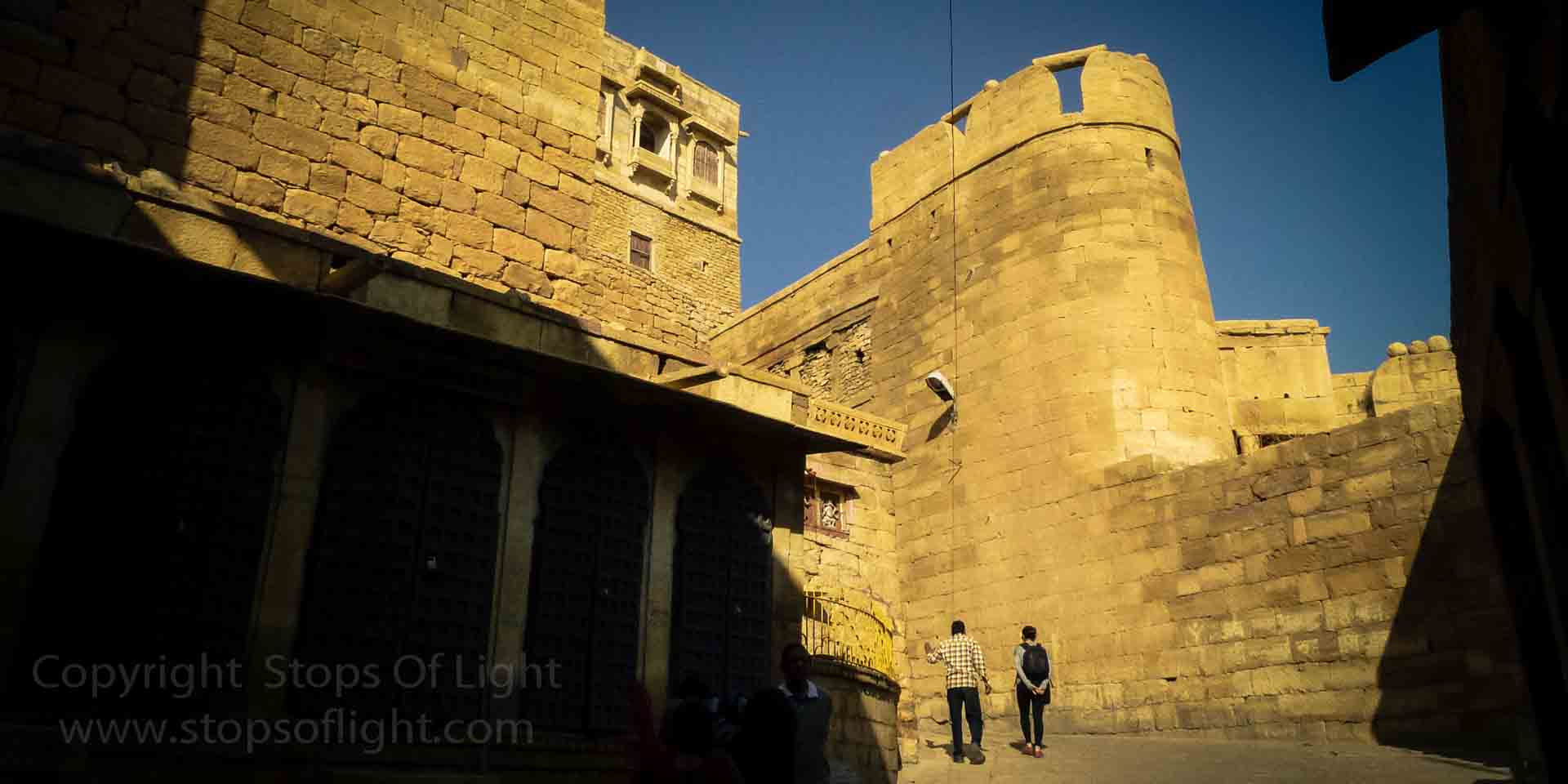 THE LIVING, BREATHING FORT AT JAISALMER
She paused for a while, gathering her thoughts before proceeding. "Forts are relics of the past," she said . "They've had their proverbial day in the sun when they were functional. When they were built to house rulers of old, garrisons, entire populations, or trading outposts. But they are things of the past mostly, as they're no longer inhabited."
"This fort however," she continued "is an exception – it's still inhabited, and in large numbers at that. The lanes, the walkways bustle with people and activity, and the people aren't tourists or travelers alone. They belong there. Plus the lively markets and bazaars. This fort is not a thing of the past. It's not dead, it's a living, breathing thing – a living, breathing fort. That's how it's been described in the guidebooks, and I agree with that description, having experienced it in the few days we were there."
"Ah yes, the guidebooks. They must be right. I guess. Well, mostly." I went, hurrying on as I saw her visibly reacting to the irony in my voice. "Now, tell me.. would you agree if I made the following assertions: that living – life itself – can be described as an interplay of complementary forces, often described as 'opposites'? That all phenomena are a result of these forces? That the dance between these two forces is what results in… call it what you will — rhythm, movement, flow — and that is the nature of Nature, of Life itself? That without Movement there is Decay? Would you agree with these assertions?"
She nodded vigorously. "Absolutely, I agree wholeheartedly!"
"Goodie," I replied, flashing her a thumbs-up. "So let's explore the parallels, shall we? If there are 'forces', and 'complementary' at that, it follows that they're not the same. That they differ. And where there's a difference of any sorts, there's contrast! Ergo, contrast is at the very heart of life itself! It's what makes things 'interesting' / 'alive'. That oft-used – but little-understood – word in photography called 'Tension'? It is nothing but the pulling of forces in different directions. And that is a result of contrast. And it is this 'Tension' that causes our eyes to move from point to point in an image, exploring it, giving it a rhythm or a sense of movement. And when the choice of elements or points is well thought through and deliberate, when the way they're laid out is deliberate, that's Composition. And that's when a photograph becomes a living, breathing thing. When Henri Cartier-Bresson said 'All you have to do is live and life will give you the pictures', I believe that he was alluding to this: That Everyday Life is Contrast, that it's there all around us, just waiting to be seen, appreciated and captured in the box. Getty? With me so far?"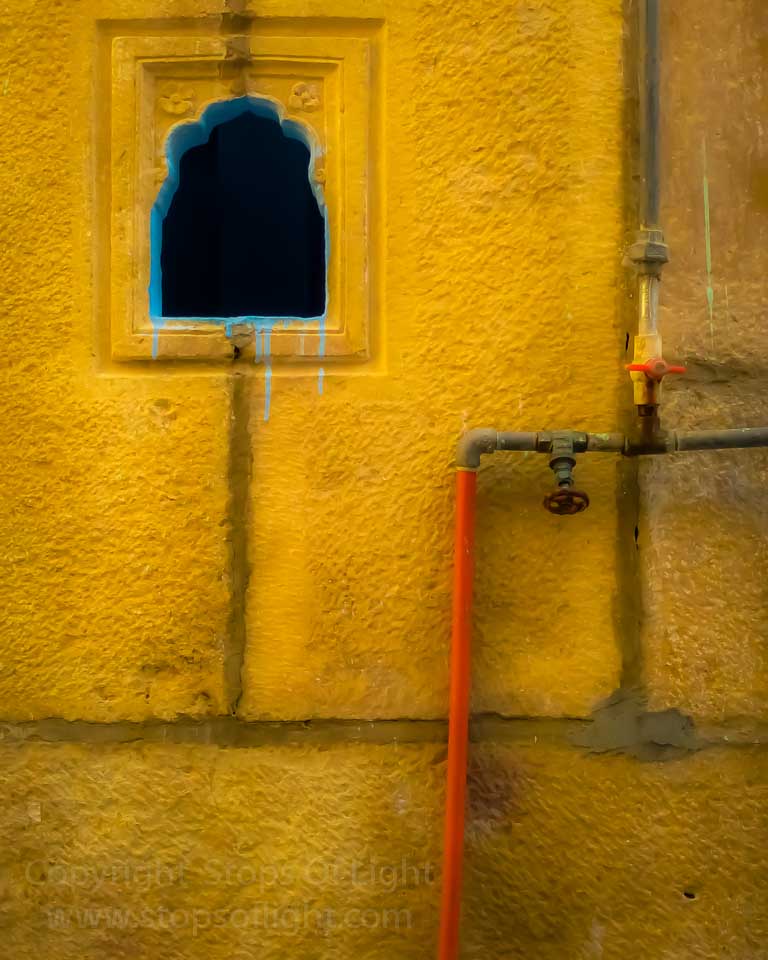 "When Henri Cartier-Bresson said 'All you have to do is live and life will give you the pictures', I believe that he was alluding to this: That Everyday Life is Contrast, that it's there all around us, just waiting to be seen, appreciated and captured in the box."
"I
get it!" she exclaimed (or should I say yelled). A tad bit too loudly for my taste, and that of the passenger in the seat next to hers. Woken as he was from his slumber, he shot her a venomous glare, only to promptly fall asleep the next moment, oblivious to the profuse apologies Aapti was mouthing.
"I get it now," she whispered as she turned back to me – I couldn't help but smile at the contrast in volume. "I understand now why your images seem so lively. And I understand why you included that stone tablet with the currency exchange rates in that photo of the temple wall — you were enlivening that image using contrast in subject matter and concepts!"
"That, and more." I replied, laughing. "What I really was doing was Telling a Story."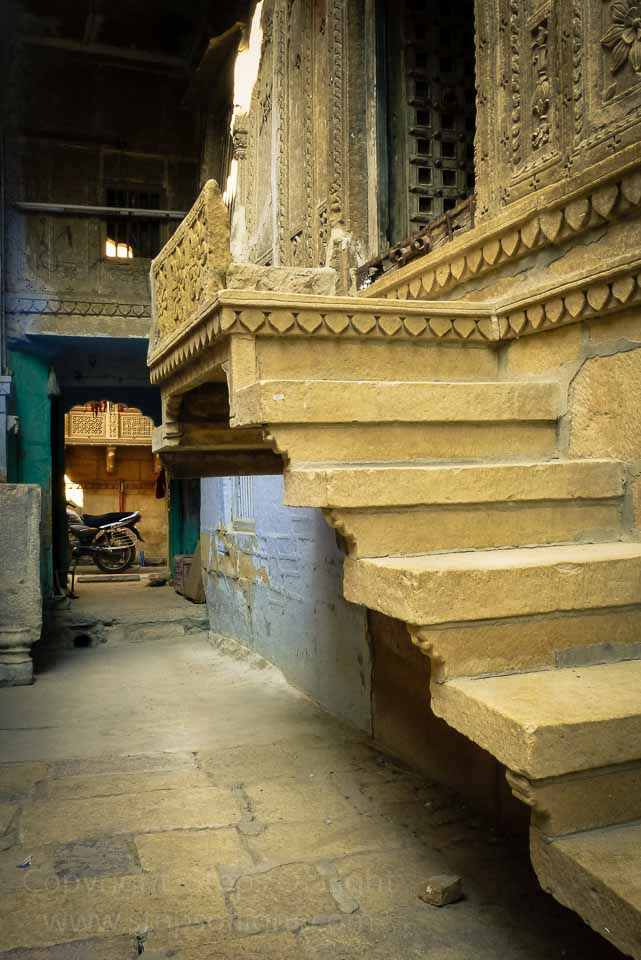 "Will you walk into my parlor?" said the spider to the fly;
"'Tis the prettiest little parlor that ever you did spy.
The way into my parlor is up a winding stair,
And I have many pretty things to show when you are there."
(from 'The Spider and the Fly' by Mary Howitt)
WHAT'S A STORY, REALLY?
"No," I repeated for the second time while glancing at my watch. "I'm afraid it's just not possible to squeeze what would be a full day's workshop on The Art of Telling Stories through Photography into the limited time we have at our disposal, which would be thirty minutes according to our ETA at Mumbai. But yes, what I can do in that period is give you an introduction to the process, some tips, and of course stuff that'll get you thinking and question what you already know. So let's get that ball rolling. And since I'm such a firm believer in defining terms, let's start with that word 'Story'."
"What's a story? The standard definition is 'A story is a recounting of events'. But as you know by now, I'm usually dissatisfied with standard definitions, lacking as they do certain key points. So I'm gonna play around with that definition some, the better for us to make use of it for our purpose. To me, 'A story is a recounting of the IMPORTANT BITS – THE BITS THAT MATTER – OF EVENTS THAT ARE CONNECTED'. And if you think about it, it's so obvious. But as usual, the standard definitions leave what really matters out!"
"To me, 'A story is a recounting of the IMPORTANT BITS – THE BITS THAT MATTER – OF EVENTS THAT ARE CONNECTED'."
She laughed aloud; having attended one of my weekend workshops, the significance of my choice of words wasn't lost on her. "Go on," she said.
"Considering the time we have at our disposal," I went, "let me quickly deal first with the philosophical aspects of telling a story via the medium of photography, forming as it does the very foundation. Following which we can touch upon techniques."
"O.K.," I went, "Let's start off by broadly categorizing stories into three types. The first being The Stories We Hear, the second The Stories We Choose to Hear , and lastly The Stories We Tell."
THE STORIES WE HEAR, THE STORIES WE CHOOSE TO HEAR
"Yes,there is a difference," I said. "One would think that in a perfect system of transmission / communication, there is no difference in what is said / written / expressed, and what is received at the other end. In the real world, however, things are very different. With communication – whether it be verbal, written or visual – this is just not possible, because even if the medium of transmission is perfect (which it isn't), what is being communicated are thoughts and ideas. And since thoughts and ideas are subjective, there is bound to be a variance between a thought / idea put forth via any communication medium and the thoughts and ideas generated in the receiver's mind. To put it simply, there can be a difference between a story I tell, and what you make of the story; there is a difference between what you hear and what you choose to hear. What you choose to hear is what you make of the story that was told to you – it is the story you choose to make of what was narrated. Or to put it in the words of Ansel Adams, 'There are always two people in any photograph – the photographer, and the viewer'. The photographer is telling his or her story, and the viewer the photograph is hearing their own."
"To put it simply, there can be a difference between a story I tell, and what you make of the story"
"A
 ping announced the lighting-up of the seat-belt indicators; we'd begun our descent. I quickly began to walk her through some of the images that told The Story. The Story that Forts can Breathe and Photographs can Speak. "This fact – that there is a gap of sorts between the Stories we're Told and the Stories we Hear – poses a challenge to those who wish to tell a tale. The challenge being one of ensuring the message is clear. That there is no ambiguity, unless that ambiguity is deliberate. And I'll deal with that deliberate ambiguity in a moment. Either way, it's pretty obvious that you can't tell a story without having 'heard' it yourself. You may 'hear' it from someone else, 'hear' it from things, 'hear' it from your experiences or whatever. But you can't tell it unless you are aware of it. And the more aware of it that you are, the better you can tell it as you please."
"Know this, " I continued. "Everything – and everybody – has a story to tell. The question is 'ARE YOU LISTENING?' And if so, 'WHAT IS IT YOU'RE HEARING?' "
"Know this," I continued. "Everything – and everybody – has a story to tell. The question is 'ARE YOU LISTENING?' And if so, 'WHAT IS IT YOU'RE HEARING?' "
She nodded thoughtfully, repeating what I'd said. " 'Hearing it from things, hearing it from your experiences!'. Is that what you mean when you say in your workshop that 'If you sit and observe a thing – any thing – for long enough, it'll tell you how to photograph it.' ? It has to be, this is so…. connected!"
"It is, isn't it?" I laughed. "So here's a little secret I'll let ya into: You know what they say about how the photographs one makes are a reflection of themselves? Know why? It is because…"
I flipped through photographs, stopping finally on one. The one that got story started. The photo that had Aapti wondering. The photo of a stone tablet with the day's currency rates resting against the wall of a temple. The photo of a living fort, sans any human. I paused, then took a deep breath before continuing.
"The photographs we make are a reflection of ourselves in that The Photographs we make are the Stories we Tell Ourselves!"
"So here's a little secret I'll let ya into:…"
"…you know what they say about how the photographs you make are a reflection of yourself? Know why? It is because…"
"The Photographs we make are the Stories we Tell Ourselves!"
EVERYTHING – AND EVERYBODY – HAS A STORY TO TELL. WHAT'S YOURS?
She'd buried her face in her hands; I gently tugged on a few strands of hair on the crown of her head. "Go on," she said, looking up. "Complete The Story. Where did I mess up? What did I miss?"
"I wouldn't say you messed up. But yes, you did miss something. Specifically, you missed out on telling your very own story. In being too literal, in interpreting too literally the words in the guide-book about it being "A living, breathing fort as  its inhabited and bustles with activity", you told yourself a story. Except that it wasn't your story, it was someone else's story. And your pictures – the story you essentially told yourself – reflect that; that a living, breathing fort should translate as pictures of the fort with people in every frame."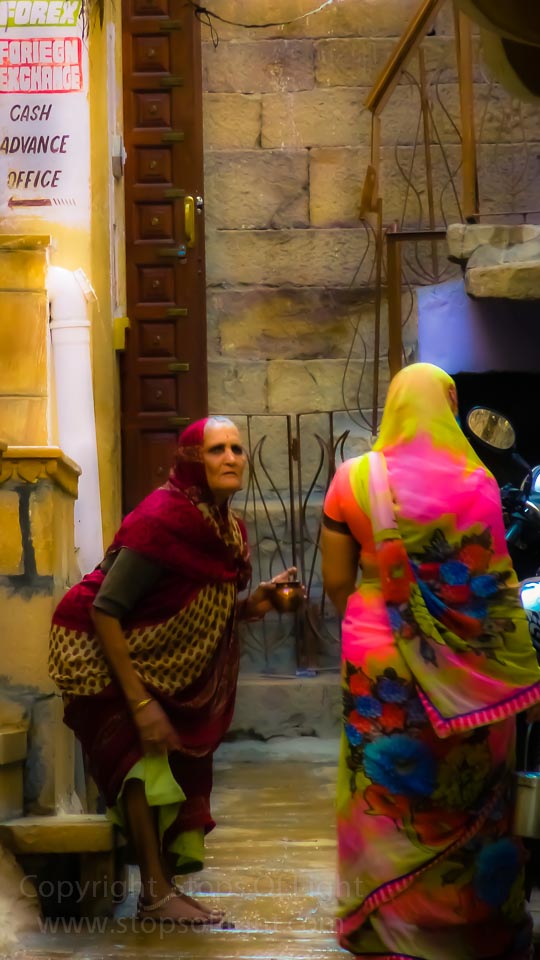 "What am I trying to tell you here is this – don't shoehorn yourself into a box based on what you've read or heard. Yes, you can use it as a starting point, but don't stop there. Don't be too literal. Feel! It is only then that it becomes Your Own Story. These doors have stories of life – of living itself –  as do these windows, and everything else. Open the doors to your mind…Allow yourself to feel! And then, watch the magic – and the stories – unfold!"
"Allow yourself to feel! And then, watch the magic – and the stories – unfold!"
TECHNIQUE? WHAT'S THAT?
I waved to the air-hostess to let her know that yes, I was aware that I should be powering off my laptop. "As for 'Technique', what's that but a set of tools?" I continued.
"Tools are mere methods to Tell the Story. But The Story must exist first before you can tell it. Tools are external manifestations of internal processes. And  as I'm prone to say, the best of tools are of no use if you fail to realize the thought-processes from which they arise, and the principles behind them. Color, Form, Perspective, The Moment, Ambiguity, Tempo, Alternation,
Rhythm, Emotions, Characters, Connections, Interactions, Backdrops," I said hurriedly,  before breaking off mid-sentence.
A long, deliberate pause, before I moved on to the next  photograph – that of a row of antique alarm clocks I'd chanced upon in one of the innumerable wayside stalls in the fort.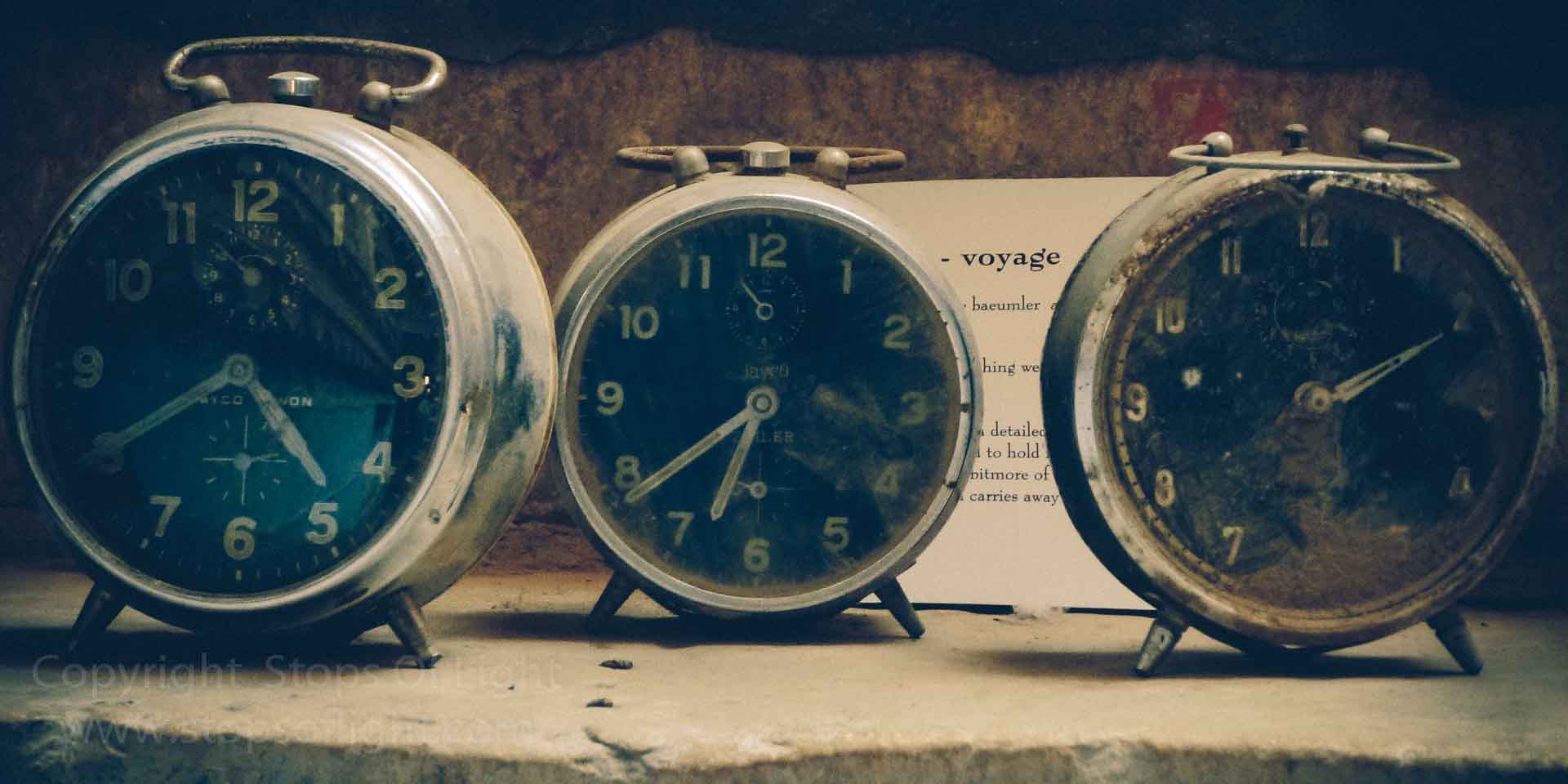 I held my silence for a few seconds before saying it: "… Pace."
She looked at me and smiled. "It's almost like I'm being taken back in Time. A voyage back in Time,  I can literally hear those broken-down clocks ticking, telling me something …". A moment's pause before the smile turned to astonishment. "Gosh, I'm telling myself a story!!!"
I'd said – and done – most of what I had to. What was left was but the gift-wrapping. "If broken-down clocks can tick, if they can Live and Breathe, then it must follow – again – that it's not mere habitation or the presence of people that makes a fort live and breathe. I've saved this image of this cupola silhouetted against the sky for the last…"
"Wait!" she said. This isn't the fort at Jaisalmer, so… wait a second!" she paused before continuing. "But it does breathe! Albeit to a different rhythm. It has its stories to tell. We just need to have the ability to hear it, and to tell ourselves the story!"
T
he wings rocked; we were on final approach, less than a minute from landing. She turned to me.
"There are so many stories. Everywhere. How do I find them? What are the stories I should pay heed to?"
"You know, that oft-repeated saying of Cartier-Bresson – the one that goes 'All you have to do is live and life will give you the pictures'?" I replied. "I believe  its a bastardised quote; he never really said that. The original is something else."
"Eh?" she went, just as the wheels thumped on the tarmac, bringing us down to terra firma. "What did Cartier-Bresson really say then?"
I couldn't help but laugh as I replied. "What Cartier-Bresson really said was this…"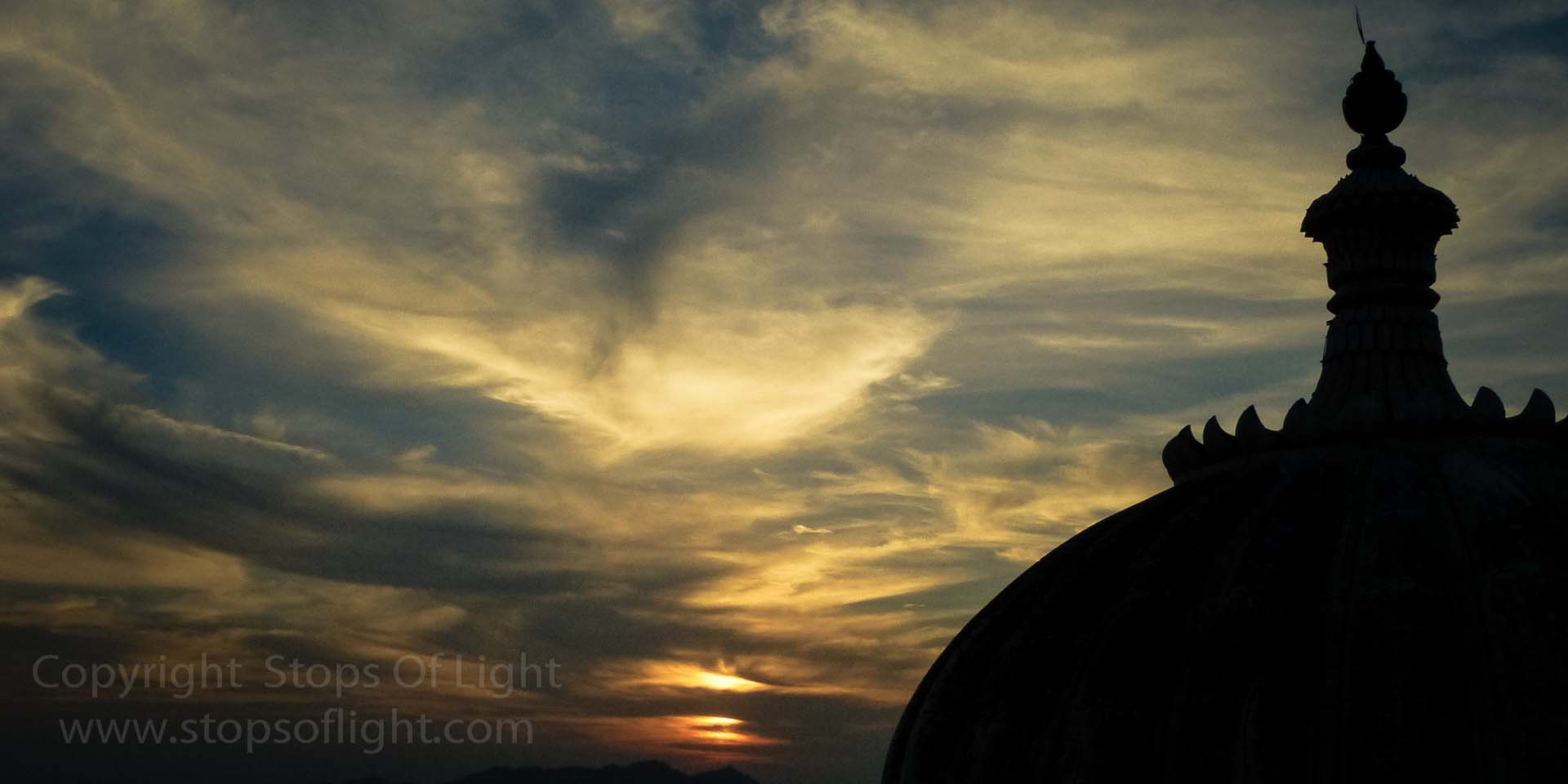 "ALL YOU HAVE TO DO IS LIVE, AND LIFE WILL GIVE YOU THE STORIES!" ~ HENRI CARTIER-BRESSON
FAQs
And while The Story ends where it does, Aapti had some questions during the taxi-ride from the airport to her hotel. As did some of the folks who previewed this story prior to me publishing it. As will some of you who've 'read' it. Here are some of them, in no particular order.
IS THIS REAL? THE STORY, THAT IS. DID IT REALLY COME TO PASS AS YOU DESCRIBE IT? OR, IS IT FICTIONAL?
Does it matter whether this story is a fictional narrative supported by my actual photographs of the location, or whether it really came to pass as I described it? What makes a story real? What makes a story true? What really matters – in this case – is whether you were transported to a different time and place via the text and the images. What matters is if you felt you were there, in that
aircraft, hearing this interchange, seeing the images. What matters is if you were there.
If you felt you were. If you "heard / saw / felt" this story in your head, it is then and only then that it is true. That is what a story really is – what we tell ourselves.
THAT STRONG REPEATED EMPHASIS ON "'WHAT WE TELL OURSELVES'" – ARE YOU TRYING TO IMPLY MORE? IN THE CONTEXT OF THE TIME WE LIVE IN, POLITICALLY SURCHARGED AS IT IS?
You – the reader – are the best judge of that; this story is an onion, peel away a layer and you'll find another one. How far are you willing to go?
THAT'S QUITE AMBIGUOUS! SPEAKING OF WHICH, YOU TOUCHED UPON THAT WORD IN THE STORY, BUT DIDN'T GO FURTHER. COULD YOU ELABORATE?
The whole purpose of the deliberate use of ambiguity in photography – or any form of story-telling actually – is to tease in order to generate interest, exercise the imagination, and allow for multiple interpretations. Rather than say "this is it, this is what the story is about – no more, no less!", the deliberately ambiguous photograph or story – and mind you, a good photograph is a story in itself – encourages further exploration by playing upon our curiosity, generating as it does some degree of mystery. Essentially, by leaving some bits out, the story-teller leaves it to the imagination of the recipient to fill the missing bits in. Again, we're essentially telling ourselves stories when we do that, as you can see; the role of ambiguity is to encourage that.
AND THAT IS TRUE OF ALL FORMS OF STORY-TELLING? OR DOES IT DEPEND ON THE MEDIUM?
If by medium you mean the communication medium, the answer to that is in the affirmative; the verbal, written and visual mediums allow for differing degrees of ambiguity, though ultimately it boils down the skill and ability of the story-teller.
In my opinion, the written medium offers greater ambiguity than the verbal one, considering that the audience is removed from auditory clues that they could otherwise subconsciously use to establish what is trying to be explicitly communicated. If we take this further, the written medium offers greater ambiguity than the visual one. And within the visual category, still or single photographs offer greater ambiguity than a series of images or a movie. It's really not that complex if you think about it – the more "complete", the more "graphic" something is, the clearer it is to our understanding is, isn't it? I mean just think about the phrase we so often use: "He / she painted a picture with their words". Or, "he or she spelled it out / described it in graphic detail". What do these phrases mean? That whatever it was, it was clear. The more "graphic", the more "complete" something is, the less the ambiguity.
Think about it some more and you'll realize why Abstracts in the Visual Arts are so prone to multiple interpretations. It is because of their ambiguity. By removing bits, by removing context, by showing just parts of the whole, the artist is encouraging the viewer to fill in the gaps. To tell themselves their own story.
YOU SPOKE ABOVE OF "A SERIES OF IMAGES" VS A SINGLE IMAGE. WHICH ONE IS BETTER FROM A VISUAL STORY-TELLING ANGLE?
It really depends on what one is trying to do, doesn't it? The story you want to tell, the intended audience, the delivery mechanism , the medium etc. And of course, personal preference and style. I'd frown on you going "Oh this is the style I want
to follow" and then just sticking to that for the rest of your life. I'd encourage you to give both a whirl before discovering your own personal style. What's important though is that you spend time – and quite a bit of it – in one before dabbling with the other; flitting like a butterfly never got anyone anywhere. Except the butterfly and Muhammad Ali, of course!
Touching more upon "Series vs Single Image", it is first important that we understand that at the heart of both is "The Still". The Series is but a compilation of related stills telling a story, while the Single Image Still tells a story by itself – it is complete by itself.
Moving on, you could choose to follow for example in the footsteps of Capa or Sebastian Salgado. The signature of both these masters of their trade is their use of The Series, which they call "Group [of interrelated pictures]", to tell the story.
Alternatively, you could follow in the footsteps of those Masters of Masters – Henri Cartier-Bresson and Raghu Rai – aiming to as Cartier-Bresson described it, tell an entire story in a single image, which is what The Decisive Moment is all about.
At this point let me hasten to clarify that every image that nails The Decisive Moment is a Still, but not every Still is The Decisive Moment. An example of a Still that is not The Decisive Moment is that of the clocks in this story, as is the image of the stone tablet against the temple wall. They tell a story too, but they are not images characteristic of The Decisive Moment. The Decisive Moment necessitates Movement – a moving element captured at the precise moment, what Cartier-Bresson described as "all the elements coming together for maximum emotional impact". The moment can be as subtle as the moment when a person drops their mask – their reservations – during a portrait sitting or it can be a moment in a highly fluid environment. The characteristic feature of The Decisive Moment is its every ever-so-transitory existence before it is gone forever.
What is most important is that each photograph – each still – must be a story in itself, even if it is part of a series. It may be useful to think of every photo as the first frame of a movie. As Cindy Sherman said, "The still must tease with the promise of a story the viewer of it itches to be told."
YOU'RE A BIG FAN OF CARTIER-BRESSON, AREN'T YOU?
Absolutely. I consider his Decisive Moments to be the epitome of Stills. In my opinion, they're the epitome of Visual Storytelling.
WHY DO YOU CONSIDER THE DECISIVE MOMENT AS THE EPITOME OF VISUAL STORYTELLING?
If you really think about it, every story has a beginning, a middle, and an end. Cartier-Bresson's Decisive Moment drops you right in the middle of the story, when the action is at its very best, when the elements are at their strongest. And in dropping you right in the middle, at the most powerful moment, he forces us to pause. He makes us wonder, and to fill in the blanks ourselves. He makes us think of the beginning of the story, and he makes us complete the end. He makes us tell ourselves a story. That was his genius.
WHAT'S YOURS? PERSONAL STYLE THAT IS?
Theo van de Sande described a movie as "a story told through movement in space and time", and a still as "a story through stillness frozen in space and time". And in this context, he said that he "liked opposites".
Now, you should know that I'm not into movie-making, so my knowledge of the art and craft of it is practically nil. But if you think about it, a series of stills is like a movie of sorts with gaps. I like both – telling stories via a single still as well as via a series. I tend to gravitate more towards the single still, with an emphasis on The Decisive Moment.
HOW IMPORTANT IS COMPOSITION TO THE PROCESS OF VISUAL STORYTELLING?
Paramount! Johann Wolfgang von Goethe wasn't a photographer, but he nailed it when he said that "objects in pictures should be so arranged as by their position to tell their own story."
If that isn't composition, I don't know what is. Cartier-Bresson spoke about the coming together of elements for maximum emotional impact; again, that's what composition is.
IN ENDING CAN YOU ELABORATE A BIT MORE ON THE PHOTOGRAPH YOU START THE STORY WITH – THE ONE OF THE STONE TABLET AGAINST THE TEMPLE WALL. WHAT ARE THE POSSIBLE INTERPRETATIONS THERE? WHY DID YOU CHOOSE TO START THE STORY WITH THAT IMAGE?
Let's start with the last question – why I chose to start off with the image that I did. Firstly, I wanted my fellow-traveller to know right in the beginning that Forts don't breathe solely because they're inhabited. That words have their limitation as a means of communication and shouldn't be taken literally, and that one shouldn't shoehorn oneself into a box of one's own making. In that, the photograph was meant to make her wonder. Wonder and question.
Secondly, from a storytelling perspective: I don't personally like the dry, chronological nature of a narrative that goes in an absolutely sequential fashion.You know the type which goes essentially like "We approached the fort, from the outside it's like any other fort, here's an image of the outside. Then we passed through so-and-so-gate, here's a photograph of the gate…". You get the picture? It's much more dynamic when you shuffle the sequence of events around, as long as you can seamlessly connect them and the viewer / reader has no difficulty in doing that themselves.
To cut a long story short, I'm employing a literary technique called 'medias res' – Latin for 'right in the middle of events', usually at a crucial point. Exactly what Cartier-Bresson did, minus the movement.
Next up – what are the interpretations of the image? Which is to say what are the possible stories? First of all, let's understand one thing: The stories we tell ourselves are limited by our imagination. Within the scope of our imagination, the story we choose to believe (which becomes The Story we finally end up telling ourselves out of a range of possibilities) is a function of what we find most palatable and expeditious. As far as our imagination goes, it is based on our knowledge of the world around us. Which is to say – in the context of this image – the range of stories we can tell ourselves is based on our knowledge of Indian Forts, Indian Temples, and their caretakers and priests.
If you've been to an Indian Fort, you'll note that practically every fort – inhabited or otherwise – has a temple. And that it's a functioning temple. Every morning or evening, a caretaker priest will perform a religious ceremony there. It's the norm, irrespective of whether the fort is inhabited or not.
What isn't the norm – what's unusual – is the presence of a stone tablet with the day's currency exchange rate set against a temple wall! That's contrast for you. You'll recollect that during the narration of the story, I stress on how we use contrast to make the viewer pause and reflect. In doing so in this picture, firstly I'm suggesting not just habitation but the very play of opposites that constitutes Life itself. There's also the sense of the comical, the laughable what with the spelling error of "Shoes". The comical, the laughable — aren't they part of the fabric of life too? That's one story, one interpretation.
The other interpretations go even deeper, occurring only after the viewer has told themselves the first part, that they've acknowledged to themselves at some level the dynamics at play. Both – the initial and the subsequent interpretations – occur at a subconscious level even without the viewer realizing it. Think about it — aren't you left wondering just what is happening out there? Is it that there is a currency exchange next to the temple, and the owner has put up the rates on display there. Or maybe it could be – just could be – that what with the large influx of tourists (many of them being Non-Resident Indians) who could be of a religious bent and prone to visit the temple, the caretaker priest is not averse to accepting donations in foreign exchange? Both stories are possibilities. And trust me when I say that the full range of possibilities is subconsciously processed by our minds before consciously acknowledging One. And that One we consciously acknowledge is the Story We Tell Ourselves.
LASTLY, THE ROLE OF THE CAMERA – HOW IMPORTANT IS IT, AND WHICH ONE DID YOU USE FOR CAPTURING THE IMAGES THAT CONSTITUTE THIS STORY?
The camera just allows you to capture a moment in time. No more, no less. The faster people who wish to make better pictures realize this, the better it is for them. Don't expect the camera to hear a story, don't expect the camera to tell a story, because it can't.
I wish there was a button built into every camera, one that you pressed when you felt or thought that the camera could tell a story. And when you pressed that button, a recorded voice would say "Dude! Are you serious?! That's not my job. You're the guy with the brain, use it!"
As for the camera I used – I had my DSLR with me, but all the photographs in this story – without exception – were made on a simple Panasonic Lumix. Food for thought, I'd think!
From snapshots to Great Shots: The Art of Seeing
"Because photography is nothing — it's life that interests me." ~ Henri Cartier-Bresson
We, wholeheartedly agree. And take your photography to the next level in doing so.